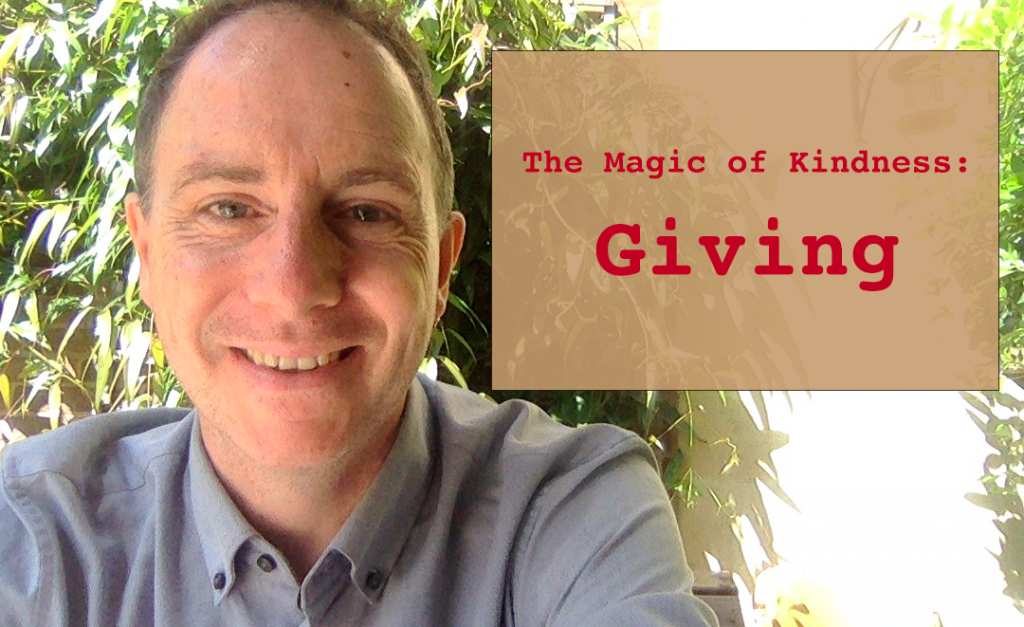 How do you apply kindness in business? 
By MAGIC: 
Moving 
Attuning 
Giving 
Inspiring 
Connecting
Let's focus on Giving.
Please Give them a Round of Applause!
When I was a student I used to go down to London and sit in Covent Garden for hours, watching and learning from the jugglers, magicians and breakdancers.
Have you ever seen a street show? If so, you have probably noticed that the biggest round of applause always goes to the volunteer, brought out of the crowd to get involved with the routine. The entertainer has been generous, giving the helper the limelight.
The crowd love it, therefore they love the performer even more.
Less experienced acts might want the biggest round of applause for themselves, the more experienced know that the best show happens when someone else is given the glory.
Exceed to Succeed
I know from my magic business that, if I can give something to the client, everything runs more smoothly. 
If I can be helpful and friendly with the booking process; if I can give ample information so they can make a good decision; if I can help them to plan a better event than they had in their imagination. And then, when I get there, exceed expectations and over-deliver. 
The result? A very happy client who will recommend me again and again.
Emotional Bank Accounts
Stephen Covey in The 7 Habits of Highly Effective People (#ad), introduces the concept of emotional bank accounts. Every time we meet someone we open an emotional bank account with them. Every time we do something good for them, we make a deposit. Every time we mess up, make a mistake, need forgiveness, then we make a withdrawal. 
Life runs smoothly if we can maintain healthy positive emotional bank balances. We do that by giving to people.
The whole premise of giving is that we don't expect anything back, but the wonderful thing is, we will probably get something in return.
It may or may not be something tangible, but it will almost certainly lead to an enhanced relationship.
Service Mindset
How does this apply in sales and leadership?
In sales you can shift your motivation from "profit, profit, profit" to "service, service, service" – from making the most money for yourself to giving the best solution to the customer. If you put the extra effort in, with a genuine desire to help to solve their problem and get them a better solution, then you will become a better and more effective salesperson.
In leadership, you can give your time, your effort, your understanding. You can listen to people, understand them. You can stand by your team member when they are facing opposition. You can take risks in delegation: delegation is a  giving of control, an act of generosity so that someone else may grow. How can you best serve those you lead?
There's Better Business if it's like Show Business
You might be the headline act, but make your helper look fantastic. Let them have the most applause and the show will be better for everyone.