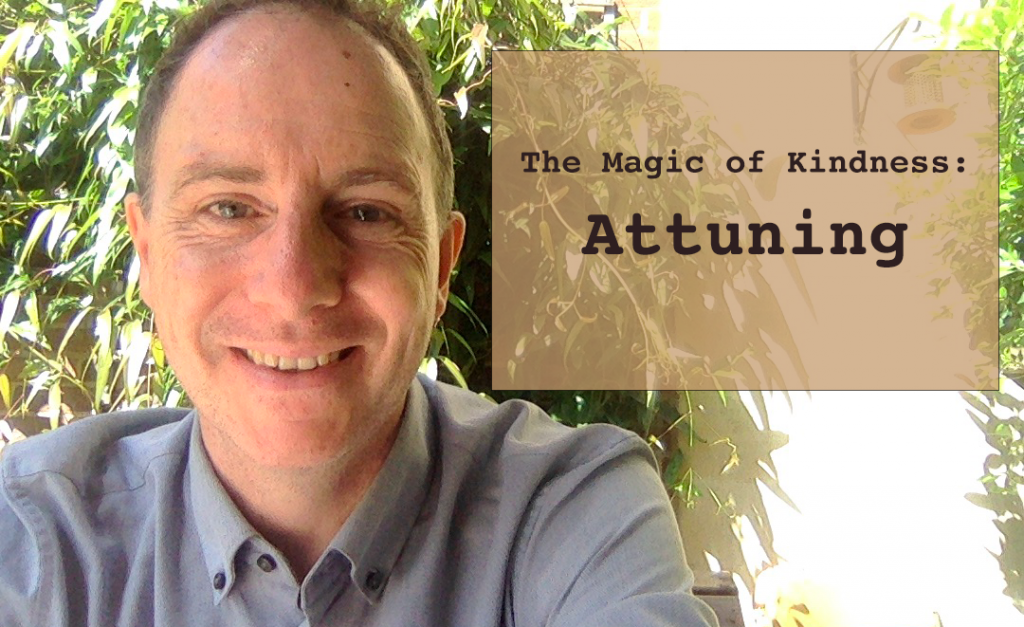 How do you apply kindness in business? 
By MAGIC:
Moving 
Attuning 
Giving 
Inspiring 
Connecting
Today I will look at attuning.
Last Christmas I Gave You My Art
Last Christmas, I had a gig at Arlingtons a wonderful venue in Ipswich run by the top chap that is Peter Gwizdala. It was a corporate party:  ten tables, I was going around doing close-up magic. I had already done some effects at the drinks beforehand down in the bar. 
I went to one table after the starter. I offered to show them something and they said, "No thanks, we've had enough magic fort his evening."  When I was younger I would have tried to persuade them, but I have since learned that this is doesn't work well. 
I moved on to another table where there was a couple of women having, shall we say, a fantastic time due to the quality of the refreshment. They loved the magic and provided very loud and enthusiastic reactions. The result was that they lifted the energy of the room. This impressed the client who had booked me. And it also improved the atmosphere for all the other guests, including the table that had refused the magic. 
It is important to listen, observe and then modify your behaviour accordingly. Because then you will get better results. This is the art of attunement.
Why is attuning at act of kindness? Because it is all about prioritising the needs of the other person.
Push it, Push it Real Good
Think about a swing in a playground.
If you push someone in time with the swing, they will swing higher.
If you push out of time, they will eventually stop.
Sale Away, Sale Away, Sale Away
How does attunement apply in sales? 
Daniel Pink talks about attunement in his book "To Sell is Human" (#ad). He points out that we have to ask diagnostic questions of those to whom we are selling. They will present with a certain need, they might think they know the solution. But the good salesperson will talk to them, and listen to them, and work out what their real problem is. 
It may be that the solution they think they want is not the best solution and you could provide something better. If you can attune yourself to their real need and provide them with a better solution then you will have a happy customer.
Leader of the Pack
In leadership, attunement can be dynamite.
Talk to those you lead. Phone them up, have a video call. When it is again possible, meet them face to face. 
Listen to them. That is the most important bit. Let them talk to you. And listen properly. 
Work out what will help them grow. One size doesn't fit all. Work out what is the best way to communicate with them. What kind of language? What kind of style? What medium?
I heard a great talk last year from Michelle Mills Porter about the way she uses the DiSC method to assess people quickly, so that she can attune to them and work out the best communication style for that individual and situation. I thoroughly recommend her work and her insights.
If you push in time with a swing, they will swing high.
Be kind. Give them the magic they need, when they need it.