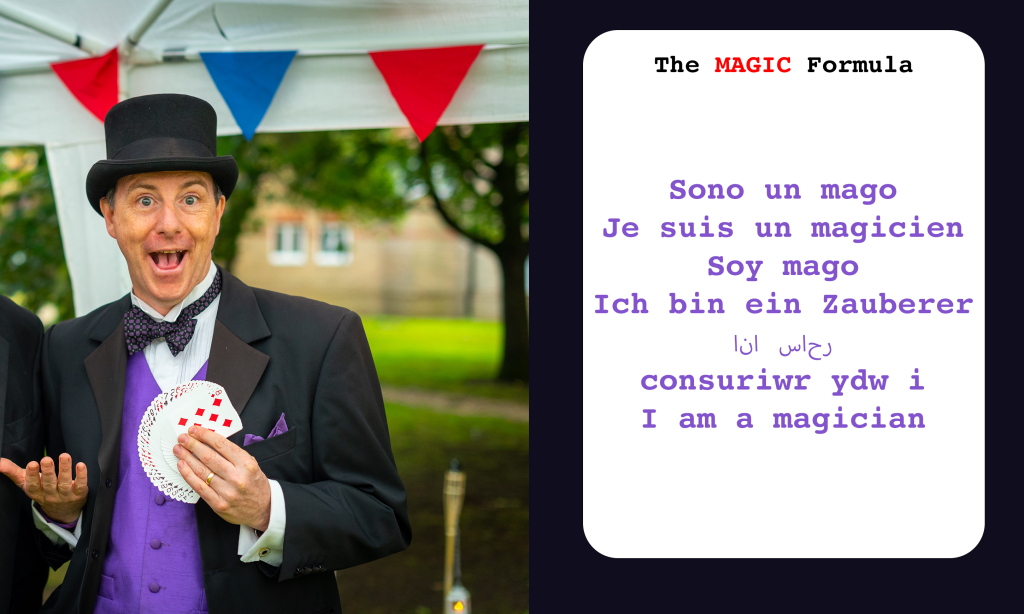 The MAGIC formula:
Moving
Attuning
Giving
Inspiring
Connecting
—
Monky Magic
I had something of an epiphany this summer. I was in France at the Taizé Community. At its centre is an ecumenical community of monks known as the Brothers. Thousands of people visit from all over the world, mainly from Europe. The food is rudimentary, and you sleep in tents or dormitories. It is not luxurious.
But I loved it! As well as the beautiful music, I loved the collective attempt to build unity by getting to know people and understanding each other. And I loved that this was achieved in a lightly chaotic and imperfect manner.
Reflective Cacophony
Many different languages were being spoken: French, Italian, German and Spanish and, mercifully, lots of English. The songs in the church services were in many different languages; each one was different, requiring you to get your tongue around different pronunciations. Each day there was a reflection given by one of the Brothers. Although he was French, he gave his talk in English. He would say a sentence, and then five translators would translate it. Not through fancy headsets, just through shouting! So there was this seesaw between a profound sentence and then a cacophony of different languages. Each language group sat near their respective translator. It was mad, but it worked.
After each reflection, we split into small discussion groups according to language. Although our group was English speaking, only three of the nine of us were from the UK. The rest were speaking English as a second language.
Making a Meal of It(alian)
Each person has a work assignment for the week at Taizé. Mine was serving the meals, so I got to see lots of people from all over the world. I made it my aim to learn to say "Hello" and "Enjoy your meal" in as many different languages as possible. Although I didn't always get it right, the effort was always appreciated.
It was on the train on the way home that I reflected that learning a language can be an act of generosity. It is a sign that you wish to understand someone different to you.
Cultural Windows
I started a Duolingo habit several years ago and then ramped it up during lockdown. I enjoyed learning French at school and decided to rekindle it before going on French camping holidays a decade or so ago. In lockdown, I started to branch out and try different languages.
I gave Spanish, German, Italian, Welsh and even Arabic a go.
As well as intellectual stimulation, I have realised some other benefits:
– An insight into other cultures. Different languages are structured differently; they have different vocabularies and naturally emphasise different things. When I was learning Italian, among the earliest words to learn were pizza, pasta and cathedral. When learning Welsh, it was sausage, cabbage and fish and chips!
– Arabic was utterly alien to me. A different alphabet – most of my time was just learning what sounds to make when I saw a certain squiggle! But something of the poetry and different angle on the world started to come through, even in the early stages.
– I decided to learn German because I realised I had a ridiculous and irrational inherited British prejudice and slight fear of Germany. The language learning had the desired effect very quickly. My fear of "the other" evaporated.
From Monks to Habits
I have a busy life, so I realised that the only way I could learn anything was by establishing sustainable habits.
I spend 10 minutes on Duolingo just before I go to bed.
And I listen to audiobooks while I am shaving and dressing. For European languages, I highly recommend Paul Noble's books, available on Audible.
Could language learning become a valuable and enjoyable part of your life?
When could you fit it into your daily routine?
—
Help Please!
I am writing a book about using The MAGIC Formula to manage yourself, particularly if you work from home.
If you are a freelancer, self-employed, or work from home in another capacity, I would love to talk to you.
If you would like to help, please get in touch: