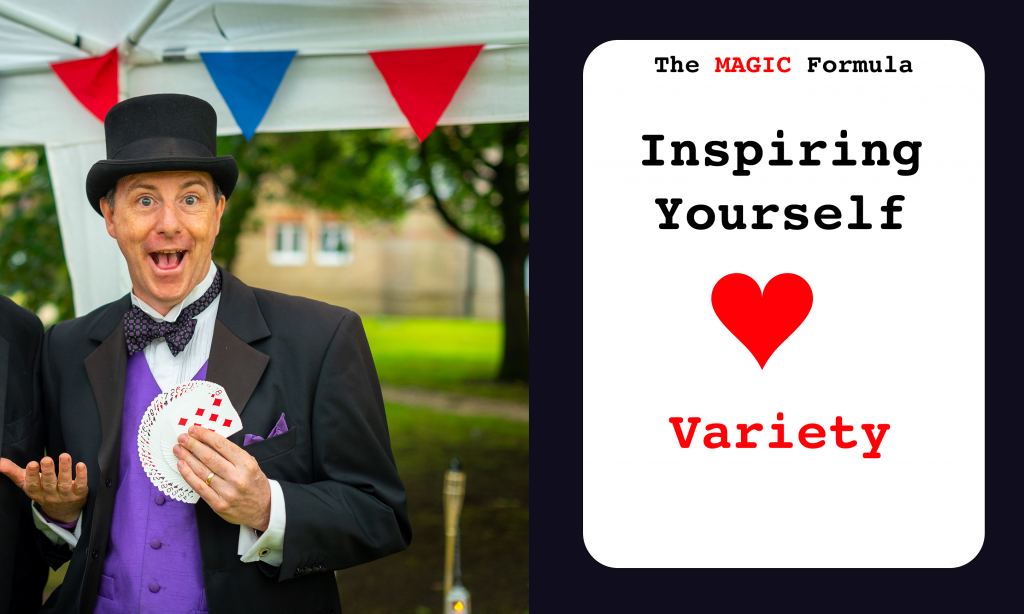 The MAGIC formula:
Moving
Attuning
Giving
Inspiring
Connecting
It applies to:
Yourself
Your clients
Your team
Your prospects 
—
The Real Variety Show
Variety is the spice of life. 
I certainly find that to be true. I get bored so quickly. I find it hard to sit and do the same thing for more than an hour. I can think back to only a few occasions in my life when I became totally absorbed in something and sat doing the same thing for hours on end. Typically it was a web design project. But it rarely happens these days. 
If you're anything like me, you could benefit from intentionally using variety to aid your productivity and creativity.
How about exploring
different solutions to problems,
different tools for creating and communicating, and
different formats for learning?
Many Possibilities
When you see a fantastic magic performance, you see an effect. If the magician is any good, you do not see the method, the secret goings-on behind the illusion. When a magician designs a trick, they will often start with the end effect in mind. Then they will consider several different possible methods for making it happen. 
Last week I built a standing desk. I researched a variety of different possible solutions. And in the end, I designed my own. 
Most problems have multiple possible solutions. Think of a tricky situation that you have right now. On a big piece of paper, brainstorm all the different ways that it might be resolved. Include the ridiculous ones as well. Then leave it overnight and come back to it.
You will probably be able to add some more ideas the next day. Chances are, either you will have decided on a different solution, or you will be clearer on your reasons for the answer you had initially.
Finding What is Write for Me
I find it very hard to sit simply in front of my computer and write. But I want to write, I need to write, and some people seem to like my writing(!) So, I have developed my own method for producing these blogs, filled with variety.
Admittedly, the lockdown has limited our options. We now have kids at home, so there are fewer rooms available, but I usually try to go somewhere other than my office to do my first brainstorm of an idea. It will be with pen and ink, a spider diagram. The next day, I will busk my article using dictation. I use otter.ai , and I simply talk from my spider diagram into my phone. This produces a text file for me, which I can download from a web browser on my laptop.
The next day I will edit this into some to tidy up the structure. On the final day, I will create the graphic and run the whole thing through Grammarly before posting. 
Flipping Brilliant
One of my favourite office tools is my flip chart. I have found it invaluable for just getting my thoughts on paper and developing them. It is excellent for preparing for talks, presentations and phone calls. I also use it to have "meetings with myself". My wife came into my office the other day and saw my flip chart, all squiggly lines, circles and multicoloured pens and said, "You are such a visual learner." Very true.
Up, Down or Sideways?
How about varying your posture and position? I now do some of my work standing up and some sitting down.
Similarly, when it comes to communicating ideas on video calls. You can just sit in front of your Zoom, or you could mix it up. When you have something to share you can talk to the camera, you could speak to a different camera, maybe on your phone? You could be standing up or sitting down; you could use slides, video or props. You get the idea. How can you make it more interesting for both you and those you are calling?
What Could You Know?
If we want to keep moving forwards and not get left behind, we have to keep learning. I favour a variety of learning formats, a mixed diet – recorded courses, live courses, reading, audiobooks, podcasts, hobbies. There are many different ways to learn. I am learning Spanish from an audiobook while shaving.
What could you learn, and where could you fit it into your life? 
Could some variety spice up your life and work?
—
Get a MAGIC Boost!
Book 60 minutes one-to-one with John to apply the MAGIC formula just where you need it right now.
Possibilities include:
– Finding your motivation
– Getting organised and focussed
– Preparing for a tough conversation
– Getting ready to lead a team meeting
– Preparing for a speech or presentation
and more!