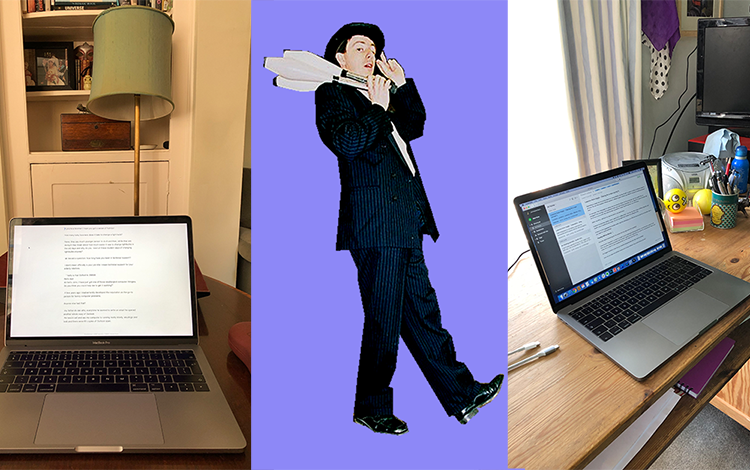 Who, Where, Why?
When I walk on to a stage as a magician and juggler, I adopt a certain persona. When I walk up to to a small group at a posh reception to perform close-up magic I will adopt a similar, but scaled-down version of that persona. When I am at a church hall for a kids party I will shift character again.
The location of the performance helps the adoption of the persona. Travel time to gigs gives the opportunity to shift from one to another.
All the World's a Stage
Outside of performing and outside of lockdown this was equally true. In my office my mind switched into admin mode. I walked to the library to switch on my writing setting. I would kayak down the river to become contemplative. And so it went on, different mindsets were associated with trains, coffee shops and club meeting places.
The location of the activity really helps me to adopt the right mindset for the activity in hand.
And now, in lockdown, most of those locations are not available. And there is no travel time to switch modes.
I felt comfortable and safe with my designated locations. Having them snatched away is unsettling.
What to do?
Location Improvisation
All is not lost. Like a magician when a trick goes wrong, you can improvise.
Depending on where you live and the space you have available, you may be able to create a number of different locations at home. You can then establish specific places for certain types of activity and new routines for switching between them.
For example, I have designated our sitting room as a stand-in library. It's fine as long as I get there earlier than our teenagers in the morning! I have positioned a table and chair facing a bookcase and I go there at the same time each day to write. My mind has been successfully tricked into thinking that I am in the library.
Within my office, I still have my desk for admin in the same place.
However, for business reading, which I used to do in coffee shops, I now turn my chair to face a different direction, get myself a cup of herbal tea and, bingo!, my mind has again been tricked into a different mode.
A friend of mine suggested that another option might be rearranging your office so that you could sit on the other side of your desk for certain activities.
Travelling Without Moving
And what about substituting for the mental shift-time that came with travelling? 
I have found it important to be kind to myself, to give myself space between activities. It would be all-too-easy to rush from one video meeting to another with no break. I have to give myself time to go down tho the kitchen and make a cup of tea, sit in a chair for a few minutes and let my mind reset to the next thing. 
For bigger transitions there are your essential shopping trips and daily exercise outings.
How can you play with different locations to aid your different focus points during the day?