Transformation is the ultimate magic trick. Transform yourself, transform your environment.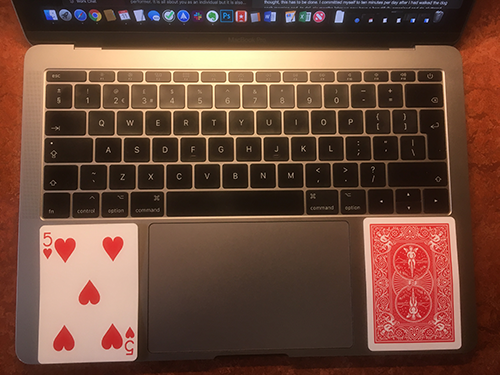 The Type that Writes
A couple of years ago I decided that I wanted to become the sort of person who writes books. However, the whole idea of writing a book seemed completely daunting. I needed a transformation.
My typing was an obstacle – slightly better than two fingers, but I had to look at the keyboard and I was slow. Learn to touch-type was the first step. I found an online course that allowed self-paced learning with as little as five minutes per day. Great, that was achievable – who can't find five minutes each day?
Hey presto, a year later I could type using all my fingers and without having to look at the keyboard. As a bonus, I have saved more than five minutes per day because I can now answer emails more quickly. And my typing speed continues to increase as I use it.
Once my touch-typing was sorted, I realised that I would never really get anything written unless I established a writing habit. So, phase two, the next stage in the journey, the next mini-goal. I committed to going to the library at the start of each day and writing for an hour. So far it is going well!
Writing a book once seemed like an impossible dream. But now with touch-typing and a writing habit, it no longer seems impossible.
Disappearing Clutter
The same principle transformed our garage. We don't keep a car in our garage, rather it is a store room for magic props, along with tool kits, camping stuff and kayaking gear.
Six months ago it was a complete mess. There were corners that hadn't been touched for ages and boxes that hadn't been opened since we moved in several years ago. But, I thought, this has to be done. The commitment was ten minutes per day after the morning dog-walk and – ta da! – six months later we now have a beautifully organised and de-cluttered garage. It has been transformed!
Having seen the benefit of this little-and-often philosophy, I have now applied it to other areas of life. Exercise, organising the office, reading books, developing marketing materials, even developing relationships.
Visualise your goal, break it down into bite-size chunks and then establish a habit and routine that allows you to achieve it in a manageable and enjoyable way.
And watch yourself perform the ultimate magic trick!