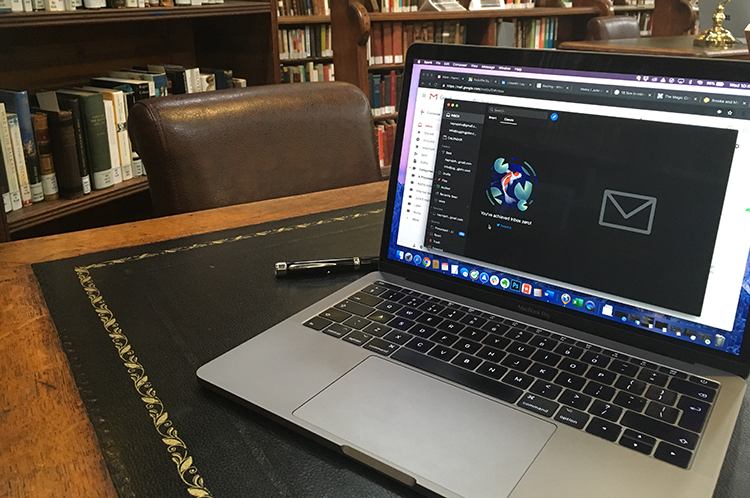 Colleague or Competitor?
In effect, your working environment is either your supportive colleague or your corrosive competitor. It will either be making your more effective or less effective.
Is it useful? Is it beautiful?
Utility and energising stimulation are two features that I want in my working environment.
A Place for Everything
Where do you work? If you are anything like me, not just in one place.
As a freelancer I do my admin and creative work in a variety of places. Different places for different modes of work.
I normally go to the library to write. It is a beautiful environment that puts me in the right frame of mind.
Admin is either at home or on the road.
That's the Way, Uh Huh, Uh Huh, I Like It
In my home office I have stripped the tech and wires back to the bare minimum, easier these days with smaller devices, wireless technology and less need for printing. My desk has a variety of ornaments and memorabilia to give me pleasant thoughts.
I have props set up on a side table so that I can do ad-hoc rehearsing, and a guitar on a stand next to my desk for occasional solo blues jams.
And then my vinyl turntable and CD player. Sometimes it feels good to go old-school!
Three Cheers for the Right Gear
I am increasingly working on the train and in my car (parked!) Having the right executive backpack – an eBag – has made this so much easier. It cost more than I would normally spend on a rucksack, but the last year of use has more than justified the expense. 
Likewise, swapping my old PC laptop for a MacBook Pro paid for itself many times over within months. I did the maths on this in another post.
Boost and Inspire
However, investing in the right stuff isn't all expensive. 
Aim for gear that makes your work easier plus pictures, ornaments and music that encourage and feed your creativity. 
My best purchase of the last year was a whiteboard. I originally bought it for a particular magic trick, but have since started using it all time for personal brainstorming sessions. It is great for mapping out ideas, changing them round, preparing speeches and articles. Once I have mapped something out I will often store a picture of it in Evernote so that I have it for future reference.  
You're Fired!
Think about your working environment – is it working for you or against you?
If you are in any way creative – writing, presenting, giving speeches, performing – then you need to feed your mind and spirit in order to have the resources you need. Stuff in equals stuff out.
If you find your old office design is actually your competitor, sack it and get another one. 
You are worth it.